Yan Yan Candy Ng is an illustrator and artist from Melbourne, Australia. Born in Hong Kong, Candy moved to Melbourne to expand her creative opportunities. Candy's illustrations have been exhibited across shows in Australia, New York, and Berlin. When not at work, she likes to explore the world with a pen and paper, finding time to pat as many dogs as possible.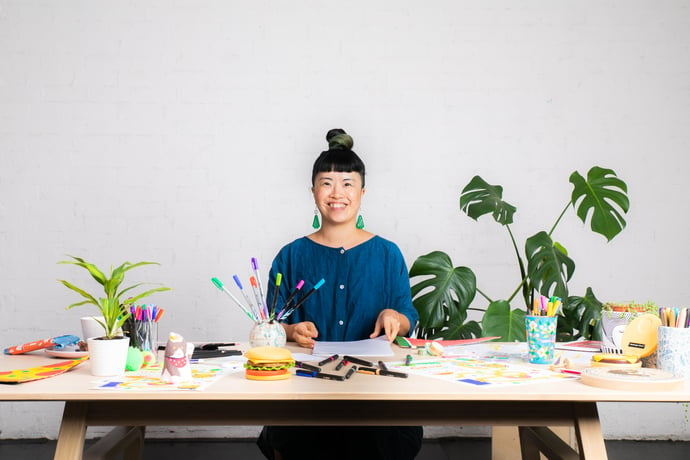 Tell us a bit about yourself...
My name is Yan Yan Candy Ng. All my friends call me Candy because I'm always thinking of food. As a visual person, my art is a reflection of my self-awareness, others, and the world around me. It helps me to navigate, process, and unload my own emotions and thoughts.
Were you always a creative person?
When I was a kid I had speech sound disorders and social anxiety – I was extremely shy about speaking, bullied by other kids and I was really nervous to make new friends. So I guess initially, I used drawing as an "excuse" to escape because it was the only way I knew how to deal with the world.
In high school my curiosity grew and I was able to overcome my own anxiety, and step out of my comfort zone, to explore, learn and solve day-to-day problems. Creativity has been a gateway for me to express my voice, connect with others, and grow as a person.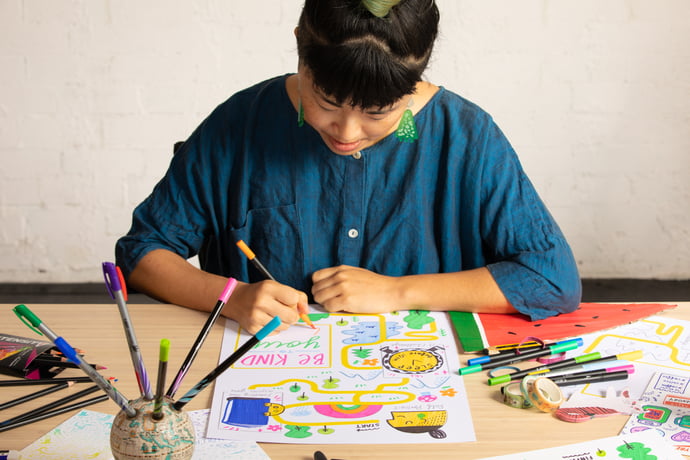 Describe your creative process?
I like to break down a big task into a list of achievable small tasks. There is something satisfying about checking things off your list, so in some way this habit encourages me to keep going.
My general to-do list for a creative project would include research, write down ideas, read my to do list again, sketch out my ideas, colour experiments and then decide on the final outcome.
How do you get in 'flow' (aka in the zone)?
If I want to be in flow, I prepare my environment in advance.
James Clear once said "To make good habits easier, reduce the number of steps to do them. To make bad habits harder, increase the number of steps between you and the habit."
So if I want to focus on getting a drawing done, I usually would have everything ready and set on the table, e.g. headphone, tea and snacks. And I will put my distraction (aka my phone) away in another room.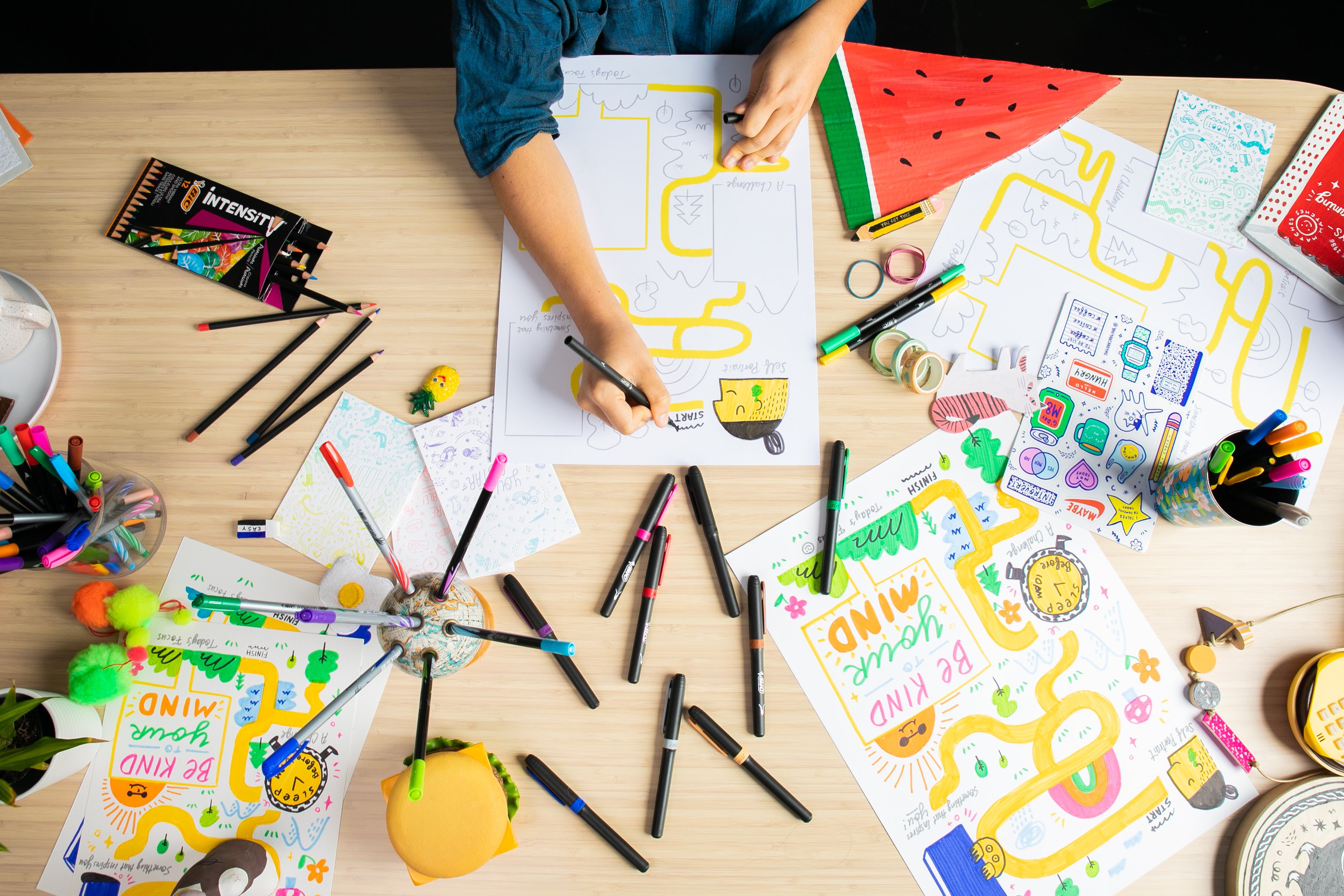 How are you 'kind to your mind'?
"Being kind to your mind" for me is about creating room for myself to slow down, breathe, recharge my energy and remind myself of my purpose.
This is part of my self-discovery journey, to check-in, reflect and see how am I doing. It helps me to understand myself better so I can get insights into actionable change for personal growth.
What inspired this tutorial and activity you have created?
It was inspired by my own self-discovery journey – I often treat my own mind as an adventure map for expeditions, full of unknown, surprises, and discoveries.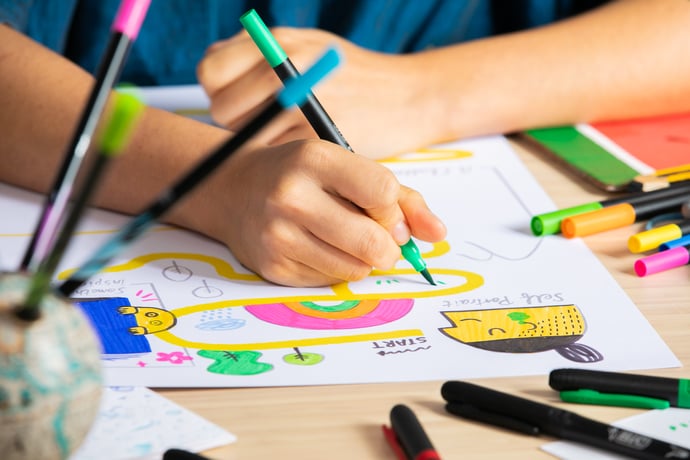 How do you think people can start to use creativity to support their minds?
You can use creativity to support your mind, by figuring out what works for you. Sometimes there are so many thoughts running around your mind and creativity can help sort out your thinking.
You can do this by challenging yourself to create every day, whether it is through dancing, singing, writing, drawing, or other forms of self-expression.
How would you encourage someone to get started with creativity?
Start with something small, maybe a visual diary, you can draw daily or a few times a week just for yourself. In a month, you will have a book of many drawings. It is always about taking smaller steps to archive a bigger picture.

Alternatively, if you have a few like-minded friends, you can also meet to work on your own creative tasks. You can keep each other accountable to get creative, to remind each other to have a break, and just have a good time.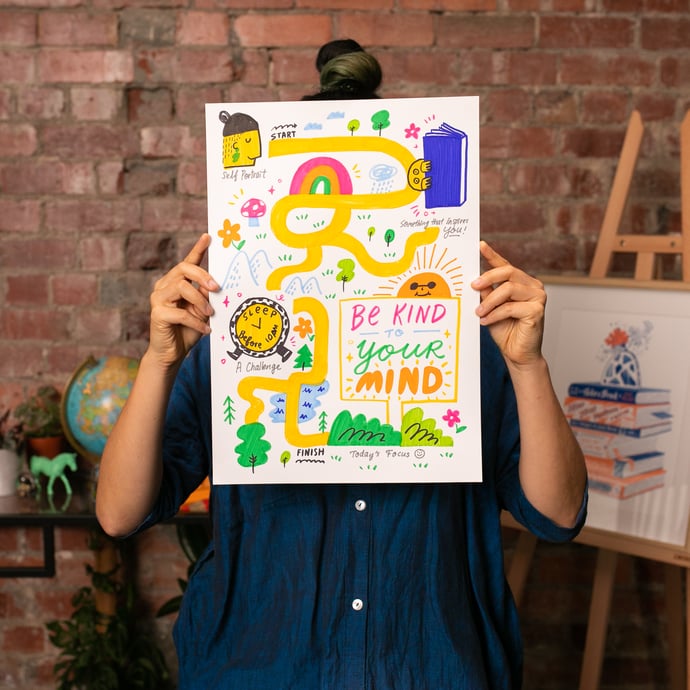 Support your mind with creativity and download Candy's activity HERE. Don't forget to share and tag us! #SMILINGMINDCREATES
Want more? Check out Smiling Mind Creates.