Schools, and the educators that work within them, are in a unique and influential position. They have the ability to create an environment where children can safely learn about themselves, their peers, and skilful ways to navigate the challenges of the outside world with openness and resilience.
Social and emotional learning programs—especially those with a firm evidence base and proven impact—can act as an ideal foundation to begin creating this environment.
New data from Smiling Mind and the Australian Council for Educational Research (ACER) indicates that a blended approach to social and emotional learning—which incorporates mindfulness alongside a range of other evidence-based interventions from the positive psychology and wellbeing science toolkits—is likely to increase both impact and engagement. This data comes out of the latest evaluation of the Smiling Mind Schools Program.
Smiling Mind's Chief Programs Officer, Kerrie Buhagiar, says, "Just like physical fitness, we recognise that a 'cross-training' approach—that strengthens different mental muscles and skills known to support wellbeing—can provide a well-rounded approach to building mental fitness1."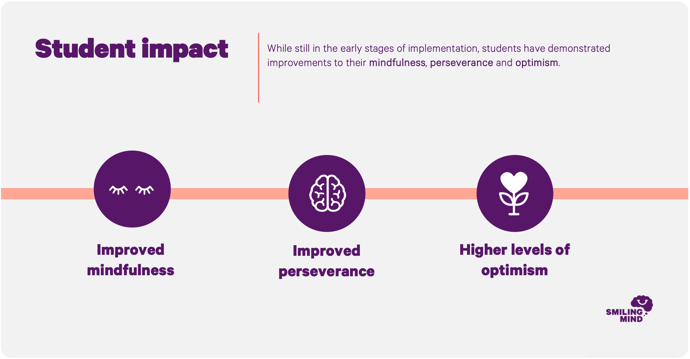 "Our end goal is to create a positive impact on the mental health and wellbeing of students, and we got it."

Jed Dib, Senior Research Manager at Smiling Mind
What is the Smiling Mind Schools Program?
The ACER evaluation investigates the Smiling Mind Schools Program, which has been designed for primary school students to engage with, learn, and develop skills that build mental fitness and resilience.
The program was created in collaboration with educators, with the aim of turning the wellbeing dial in a positive direction for students and educators in regional and rural Australian schools, as well as schools in disadvantaged communities.
The program uses a multidimensional approach to building mental fitness. Smiling Mind's Senior Research Manager, Jed Dib, explains, "That includes many evidence-based practices in the positive psychology toolkit—things like mindfulness, practising gratitude, regulating emotions, building healthy relationships, finding your purpose and identifying and using your strengths2."
At its core, the program is designed to give educators the skills, understanding and resources to deliver social and emotional learning to their students in a way that reflects existing teaching practices.
The program ambitiously aims to change the whole school's culture and attitude to mental wellbeing through a structured framework that outlines key tools that are impactful for schools. It allows for a flexible and supportive approach to implementation that facilitates schools to adapt the program to their unique structures and circumstances.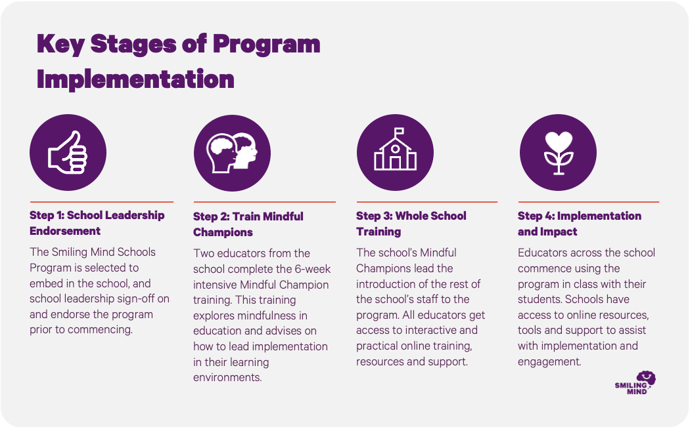 A program co-designed by educators, for educators
In creating the Smiling Mind Schools Program, working directly with teachers was essential to ensure that the program would fit seamlessly into the curriculum and be able to be taken up easily.
In collaboration with isobar (now dentsu Creative), Smiling Mind engaged in co-design sessions with educators to explore a theory of change within the complex school ecosystem, and best practices to support and guide teachers. In order to explore these areas, isobar:
Conducted 1:1 interviews
Developed educator journey maps
Defined behavioural personas
Created an ecosystem map
Identified challenges and opportunities among educators

The outcome was a learn, practice and debrief approach to teaching social and emotional learning in the classroom. The SEL curriculum was also developed and mapped to the Australian curriculum by education experts.
A glimpse into the research and evaluation
The Smiling Mind evaluation team partnered with the Australian Council for Educational Research (ACER) to delve into the impact of the Schools Program because, as Jed explains, "Objectivity is crucial to removing internal biases, and truly understanding the impact of our programs."
"ACER are experts in this kind of research and they have given us a comprehensive, rigorous and external perspective on our program impact."

Jed Dib, Senior Research Manager at Smiling Mind
The goal of the evaluation was to establish the effectiveness of the activities and approaches of the program on both students and educators.
Jed says, "We've designed the research in a way that's mutually beneficial. We use what we hear from students and teachers to evaluate and improve our programs, while also giving them an opportunity to check-in on their own wellbeing."
The evaluation summarises 18 months of research and data collection involving 466 primary schools from regional and rural Australia, spanning Norfolk Island to the Simpson Desert, and beyond. Included in the survey were 1,915 educators and 2,553 primary school students.
"To explain our research methodology in a nutshell, our teachers do a survey before beginning the program, and then they check-in at the end of every term," Jed says, "We look at areas like wellbeing, perceived stress and burnout. We report these results back to teachers in real time so they can keep track of their progress.
"Similarly, students check-in each term on how they feel about the program, their wellbeing and their feelings of engagement and connection with the school," he explains.
The impact of a blended approach to SEL
The final evaluation of the Smiling Mind Schools Program is currently underway, and the concluding analysis is anticipated to be completed by ACER in May 2023.
The interim results of the evaluation have revealed that the impact of the Smiling Mind Schools Program spans across multiple areas, including:
Having the knowledge and skills to promote a positive classroom culture
Improving educator and student mental health and wellbeing
Establishing high degrees of student engagement
"It definitely seems to be a combination of factors that create impact. We work mainly with implementation in mind. How can we give educators everything they need to teach SEL skills to students in the classroom?"

Jed Dib, Senior Research Manager at Smiling Mind
By seeing the survey trends over time, along with the app and Primary Classroom Curriculum usage, Smiling Mind are able to explore the impact of our program in the long term.
How was the program received?
The survey responses for facilitation, delivery and training content demonstrated that:
99%

Were satisfied with the Smiling Mind program

98%

Said their facilitator was knowledgeable and helpful

94%

Of educators said the program was engaging

67%

Felt the format was 'excellent' with an additional 30% as 'good'

73%

Said the content (relevance and usefulness) was 'excellent'. An additional 26% said it was 'good'

61%

Felt the structure was 'excellent' with an additional 30% as 'good'
As a result, educator confidence to discuss and teach concepts of mindfulness improved dramatically.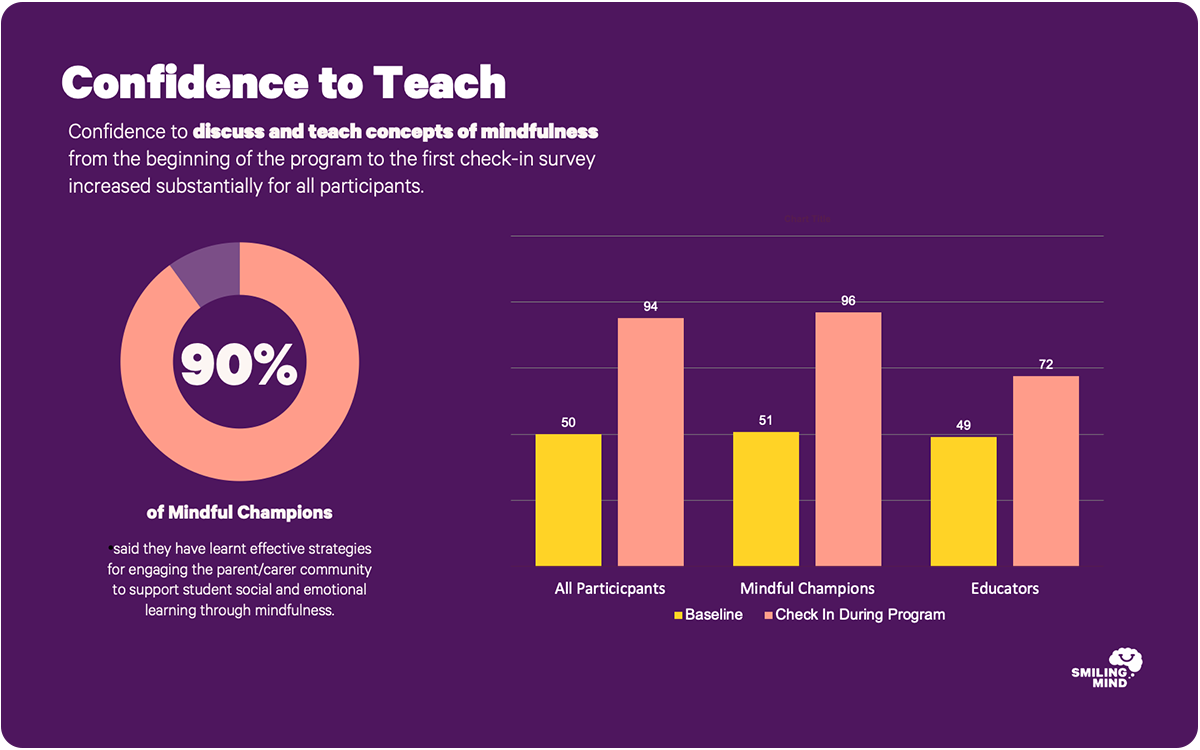 "I feel a lot more confident in my discussions about mindfulness with my colleagues and peers. I have used mindfulness a lot previously but am now finding it has become something I just do rather than plan to do."

— Mindful Champion
Educator mental health and wellbeing showed significant improvements.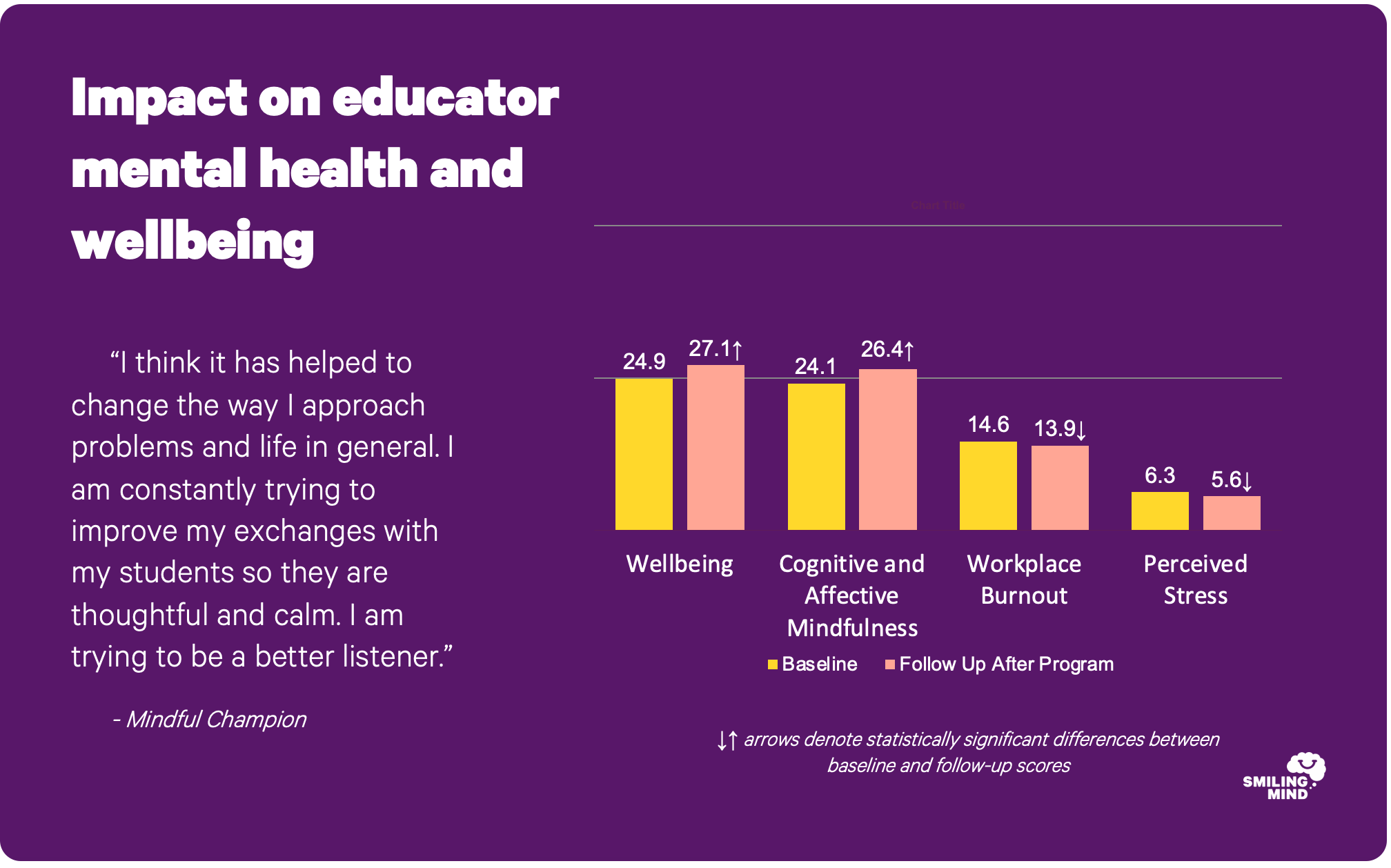 Capable and mentally healthy teachers resulted in greater positive impact for the mental health and wellbeing of students.
What do students say?
75%

Three in four educators said their students have benefited from the program so far

73%

Of students said the program has been helpful to them

50%

One in two students have taken Smiling Mind beyond the classroom

89%

Of students said our program is 'Fun' or 'Enjoyable'
Three in four (73%) students found Smiling Mind beneficial, with the greatest benefits being: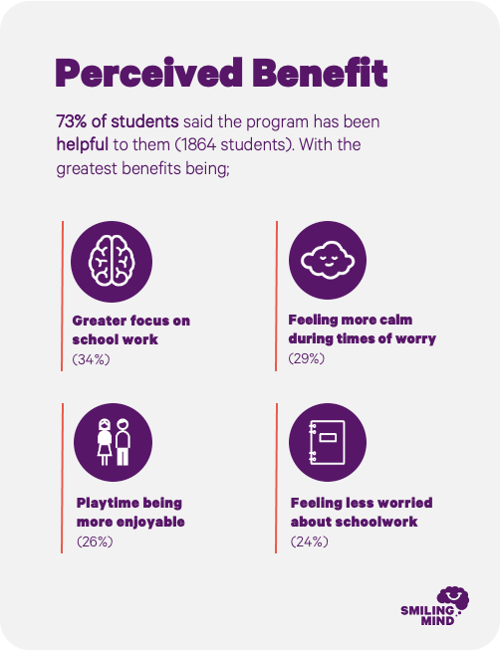 Why does the Smiling Mind Schools Program work?
The Smiling Mind Schools Program is able to create impact on this scale, not only because of its blended approach to mindfulness, but because it has been designed with engagement and flexibility at the forefront.
"Mounting evidence suggests that to maximise the impact of SEL programs in schools, programs need to focus on skill development, be appropriate to the context of children's lives, be highly engaging, and teachers need to feel confident and equipped to deliver SEL in their classrooms3," Jed says.
These facets of effective program delivery can become insurmountable barriers to impact when not addressed in a mindfulness program. However, the Smiling Mind Schools Program offers resources, training and support that targets each of these areas.
"A key focus of the program is building in the 'practise' elements," Kerrie says. "It's not only about students learning the ideas and skills, but actually putting them into practice regularly within and beyond the classroom."
This is how the program is able to create impact on student wellbeing. Think about physical fitness for example—there's a myriad of evidence that exercise is good for our physical health, but we won't see or feel the benefits of exercise unless we create a regular routine. Building mental fitness requires the same regular practice.
"By doing the activities, students quickly see the benefits and often start asking their teachers to build more of it into their classroom," Kerrie says.
Jed adds, "One of the key reasons our program works is because the students actually like doing Smiling Mind activities. Of course you need to make sure your program speaks to best practice in building wellbeing, but a strong program structure doesn't mean all that much if the students aren't engaged, or actually doing the activities," Jed says.
"About one in three go home and speak to their parents about it! It's kind of a tough thing to get kids speaking positively, or at all, about an education program," he says.
Implementing mindfulness in schools has been shown in other studies to be a key barrier4. But the strategic rollout of the Smiling Mind Schools Program works to mitigate that challenge. It provides enough structure to ensure the program can trickle into every corner of a school, while offering the flexibility school leaders and educators need to approach implementation in a way that suits the unique needs of their school.
Alongside this, school staff undertake training that arms them with the knowledge required to teach SEL to students. The training covers key SEL concepts, how to work with the Smiling Mind Primary Classroom Curriculum, and effective strategies to successfully implement SEL within the context of a classroom.
"[The training] re-energised me and gave me additional skills with which to approach difficulties I come across as a teacher everyday and to give me greater understanding of my students and their needs."

— Mindful Champion
Smiling Mind's Primary Classroom Curriculum—a digital and scaffolded social and emotional learning curriculum—ensures educators have ongoing support and guidance on teaching SEL skills to their students. It combines evidence, best practice recommendations and flexibility. Educators can use the pre-planned lessons as a base, which they can develop to suit the needs of their students.
"All schools, and classrooms, are unique," Jed says. "So giving access to the Primary Classroom Curriculum along with lots of other social and emotional learning resources, means that teachers can always be equipped with the right information that suits their classroom."
The next phase of the Smiling Mind Schools Program
Changing the landscape of child mental health 'takes a village'. The most impactful results can be seen when the key parts of a child's environment—home, school and their community—work together to support resilience and wellbeing5. This underpins Smiling Mind's approach to generational change in child mental health.
The school environment is a place where a wealth of informal social and emotional learning takes place, but it's important to create a supportive culture for these learnings to occur. Social and emotional learning programs provide scaffolding for students as they learn to navigate their emotions, behaviours and friendships. But it's the educators who deliver those programs that truly transform a school's culture.
"Creating positive change in the school system may seem daunting," Jed says, but explains how, through a combination of factors, it's more than achievable.
"It's really important for educators to be knowledgeable and confident to teach SEL, as well as responsive to their students' needs. But it's also about action," he says. "Integrating learning both inside and outside the classroom and being consistent in the delivery of those lessons—whether formal or informal—is the key to creating impact.
"When educators feel motivated, capable, supported and deliver SEL in a way that makes sense to the lives of students, we'll see the best results," Jed says.
With this in mind, and based on the interim evaluation results, the team at Smiling Mind have a clear vision to continue building on the efficacy of this program.
Jed says, "The next iteration will focus on training educators directly, with a program that revolves around working with the Primary Classroom Curriculum."
This program aims to support educators to implement the curriculum in their unique classroom environment, and develop strategies to create regular skill-building opportunities for students.
"When educators feel capable and motivated to teach SEL skills, they are more likely to integrate these learnings in a way that's suitable for the context of their student's lives6," Jed explains. "We're not the ones in the classrooms, the teachers are. So, what we offer is ongoing support through workshops, and a digital platform they can use to promote regular practice for themselves, and in the classroom."
Want to learn more about the Smiling Mind Schools Program or the Primary Classroom Curriculum?
We'd love to chat with you about options for your school! Email us at education@smilingmind.com.au
---
References