As your child starts primary school they enter a whole new world of social connections, structure and learning. It's an exciting time of growth and opportunity, but it can also be a period in a child's life where they may start to experience feelings of worry, perfectionism and fear of failure.
They're suddenly thrust into a world that is so much wider than what they've known. Here, they're developing new skills as they encounter a range of new tasks and learning to trust new people.
This is middle childhood in a nutshell. It's a key developmental stage where children begin building autonomy, establishing their unique strengths and gaining confidence in their own abilities. Navigating so many new tasks and experiences can be overwhelming for children, which is why parents, caregivers and educators play a pivotal role in helping children develop their self-worth and find their path.
It's crucial that we help children develop a sense of accomplishment to combat any negative or anxious feelings that can arise as they explore and bolster their unique strengths.
What's going on in your child's mind during middle childhood?
A child's understanding of themselves and those around them becomes more complex during middle childhood.
Middle childhood—which spans from 6 to 10 years old—is a time full of big environmental and psychological changes for children. Their social circle begins to grow, and suddenly their significant relationships move beyond close family to school and neighbourhood social connections. They are becoming social beings in their own right.
As they spend more time in these new environments, children begin taking more notice of what others are doing and the wider world around them. At this stage of development, children are curious and eager to discover the world around them. They are growing and learning at a massive rate and are laser-focused on skill-building. With all this discovery and learning comes a desire to make their own decisions about what they do both at home and at school.
They start noticing and describing themselves more in terms of their inner psychological characteristics. For example, They can now identify the language of their emotions such as "i am angry" rather than just acting and being angry without the language.
Around Grade 2, children begin to notice and describe themselves in comparison to others, for example, "I am the worst speller in my class". As they notice these things, they may start to have hesitations about their competency in certain areas, feeling like they're 'not good enough'.
This is where parents, caregivers and educators play a vital role in helping children develop a sense of accomplishment, self-worth and competence.
We all, no matter what our age, can experience feelings of doubt, anxiety, fear of failure—even perfectionism, or not feeling good enough. However, in middle childhood these feelings cause children to withdraw from opportunities, which can have a direct impact on their life as they grow.
Their perceived competence in various areas can influence their pathways later in life, including the opportunities they seek out, the choices they make and the way they use their time. Because of this, middle childhood is a key time for parents and educators to build a child's emotional resilience and confidence in themselves.
A child's character strengths are things we as adults can help to encourage or adjust to set them on a path of positive mental fitness, and help them see they're capable of achieving so much.
What are the strengths that set children up for positive mental fitness and achievement?
A focus on a child's strengths will naturally build up their wellbeing. There are some strengths that research shows support children in having a positive experience at school1 in terms of academic achievement and the way they forge positive relationships with friends and teachers.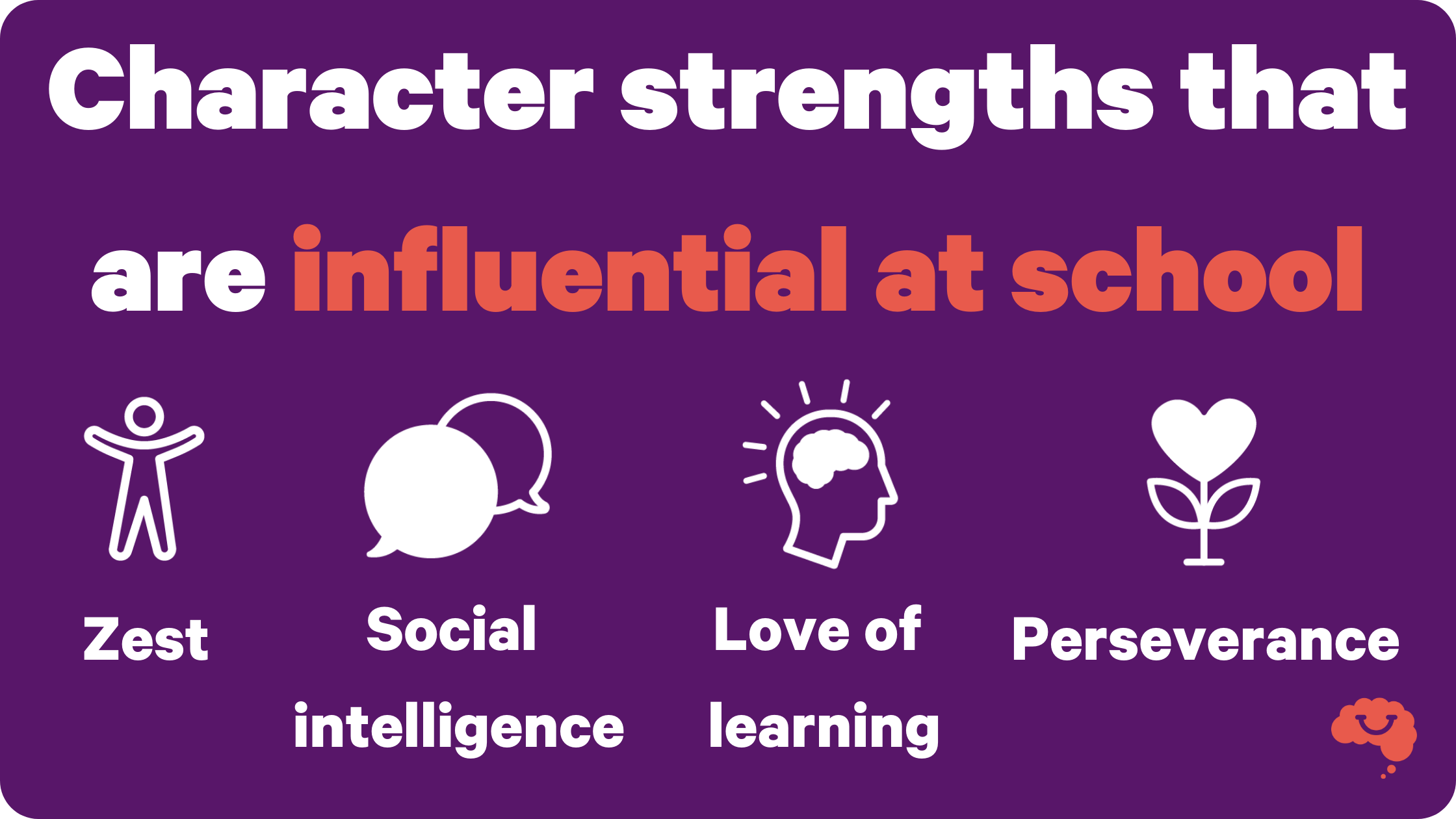 Certain character strengths are integral in supporting positive mental wellbeing, because they shield or help children recover from any negative emotions that arise as they build new skills.
Character strengths linked to overall school achievement
| | |
| --- | --- |
| Strengths correlated with positive behaviour in the classroom during childhood2 | Hope, perseverance, zest, love of learning, prudence, perspective and self-regulation. |
| Strengths associated with overall school achievement during childhood2 | Love of learning, perspective, perseverance, zest, prudence, gratitude and hope. |
| Strengths that consistently relate to positive classroom behaviour2 | Perseverance, social intelligence, prudence, self-regulation and hope. |
| Strengths that consistently relate to school achievement2 | Love of learning, perspective, perseverance, zest, prudence, gratitude, and hope. |
Nurturing these strengths in your child is profoundly beneficial to their wellbeing and success both inside and outside of school.
How can I support and encourage my child's strengths and competence?
Providing supportive, caring contexts for your child to learn and develop autonomy is key to supporting your child between the ages of 6 to 10.
The goal is to help them develop trust in themselves and their abilities. They also need to trust that their desire to make choices and stand on their own two feet is healthy and welcome. Through the supportive actions we take, children will be able to build confidence and develop a stronger sense of self-worth.
A key way we can support children is by drawing focus to the process they take to achieve things rather than their performance. Doing this encourages a growth mindset and helps kids understand they will still be loved and valued even if they aren't the best at something.
Children in middle childhood can be hesitant because they don't feel 'good enough', so supporting them in identifying their strengths can help them build their self confidence.
Smiling Mind's Resilient Families Program has a range of modules and activities designed by psychologists to help children build trust in themselves and discover their strengths.
The 'Feeling Confident and Worthwhile module' is great for this, especially the introduction and the story, 'Jace Finds Champion Pig'. In this story, Jace feels like they really don't have any strengths—especially not the ones that are celebrated by others. But one day, by drawing on strengths such as curiosity, responsibility and being cautious, Jace saves the day!
Some other confidence and strength-boosting activities in the Resilient Families Program are:
Activity
Module
Sailing Through a mistake
Being a Flexible Thinker
I can do great things
Taking Responsibility

Cooperating with others

Kirra finds some new friends

Building Relationships
With support from adults and the opportunity to learn new skills in kind, caring contexts during middle childhood, children will be set up to have confidence in themselves and to pursue a life full of opportunities.
---
References
Weber, M., Wagner, L., & Ruch, W. (2016). Positive Feelings at School: On the Relationships Between Students' Character Strengths, School-Related Affect, and School Functioning. Journal of Happiness Studies.

https://doi.org/10.1007/S10902-014-9597-1

.


Wagner, L., & Ruch, W. (2015). Good character at school: positive classroom behavior mediates the link between character strengths and school achievement. Frontiers in Psychology. https://doi.org/10.3389/fpsyg.2015.00610.