We recently launched our inaugural annual State of Mind survey with our research partner, the University of Newcastle, supported by nib foundation. The survey found that while many Australians are thinking about their mental health on a daily basis, there is still much to do to turn this awareness into action.
The State of Mind Survey was rolled out to examine Australians' attitudes and beliefs in relation to mental health, wellbeing and mindfulness.
The survey of 1,200 Australians revealed that 88% of respondents acknowledged mental health as just as important as physical health, which is very encouraging. This finding, however, when compared to Australian data indicating that less than a third of Australians with mental health challenges take action and seek help indicates that Australians have not yet translated this belief into action.
Less than a third of Australians with mental health challenges take action and seek help indicates that Australians have not yet translated this belief into action.
The findings demonstrated the positive impact increased awareness of mental health has, with 62% of respondents thinking about their mental health every day and 75% stating they know what to do to improve their mental health and wellbeing. However, not enough are translating this into action.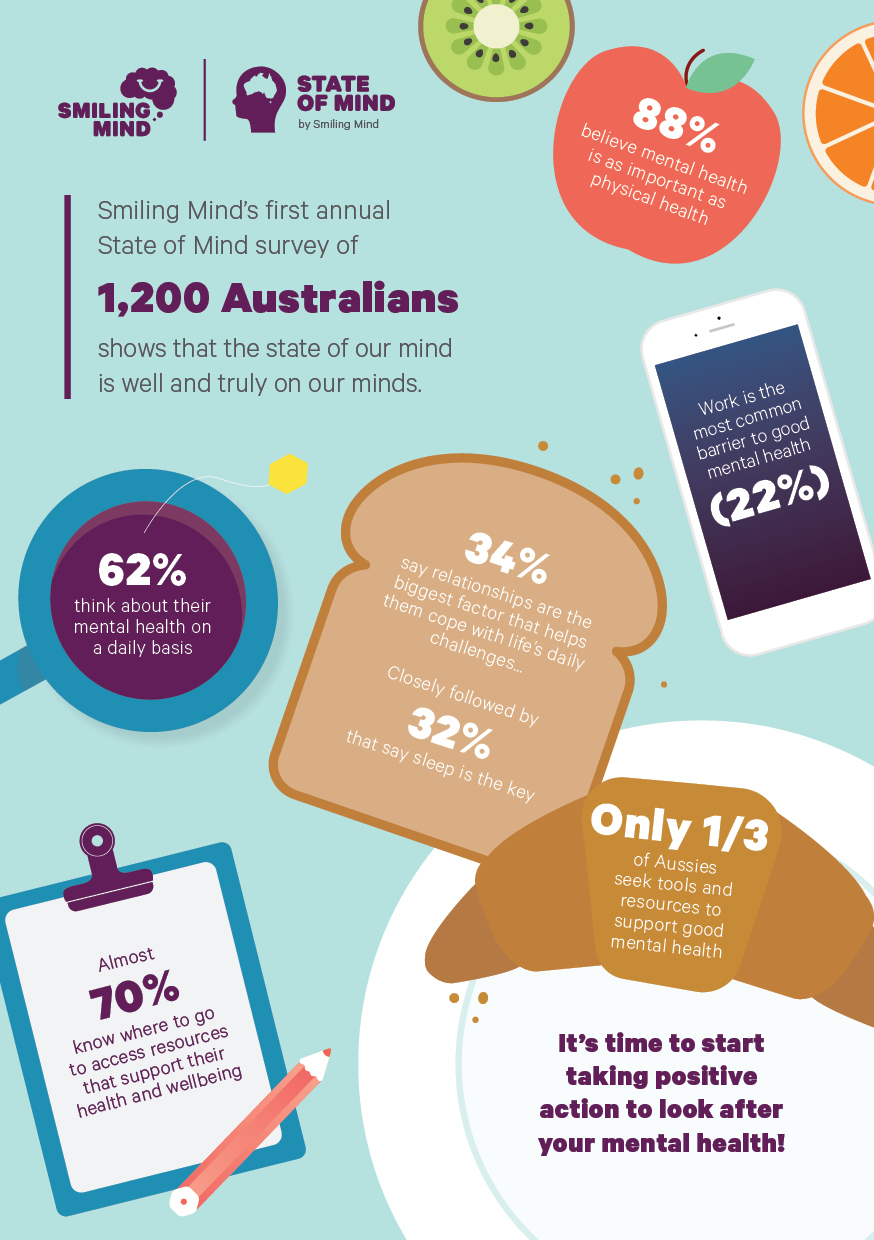 The results were launched last week with a panel-led discussion with industry leaders, Dr Addie Wootten of Smiling Mind, Dr Moira Junge from Sleep Health Foundation and the National Mental Health Commissioner, Lucy Brogden, talking about how we can begin to translate mental health awareness into action and meaningful impact.
As 1 in 4 Australian teenagers will suffer from a mental illness, and 75% of all mental illness has its onset before age 24, it was agreed that placing preventative strategies in place, such as free access to mindfulness tools, particularly at an early life stage is proven to help counteract the negative impact of mental health in society.
The survey also showed that 34% of respondents named relationships as the most important factor in maintaining good mental health, with sleep at a close second (32%), followed by exercise (15%), meditation (9%) and diet (5%).
So what can you do to look after your mental health?
1. Examine your social connections
Cultivating supported and connected relationships is a crucial step in protecting your mental health, and having five people in your life that you know you can count on can make all the difference. If you don't have those five people – make it a priority to go out and find them in whatever way works for you!
2. Learn how to say no
If you say 'yes' to every invitation that comes your way, you'll likely find yourself burnt out and in need of rest after countless commitments. Learning how to politely decline invitations that don't excite you can give you the time your mind needs to rest, recuperate and re-energise.
3. Prioritise sleep
When you're stressed your sleep routine is often the first thing to suffer, but it's an essential step in maintaining good mental health. Aim for around eight hours per night and consider doing a sleep meditation before bed.
4. Introduce mindful practices
Implementing a daily mindfulness practice – such as a short guided meditation – can be a simple and beneficial way to check in on your state of mind, and to help develop and maintain good mental health.
5. Find the right work environment for you
Not everyone thrives in the same working environment, and it's important to understand what your needs are in order to feel supported in your workplace. If you're struggling with your mental health, speak up and make sure your manager or mentor understands how they can best help you – because this will vary for everyone.